--There's
F-Chords
by Kris Straub, which is currently on hiatus.
--There's
Red Rocket 7
, which has a totally cool premise, and I'll see if I can get it at my library.
--There's
Kiss 4K
, MADE FROM THE BLOOD OF KISS!!!!!!!!
--There's
My Name is Might Have Been
, actually based on the video game Rock Band, which is a lot better than you might expect.
--There's
Revolutionary Comics
, which put out a series of rock biographies in the late 80's and early 90's. Here is a sample: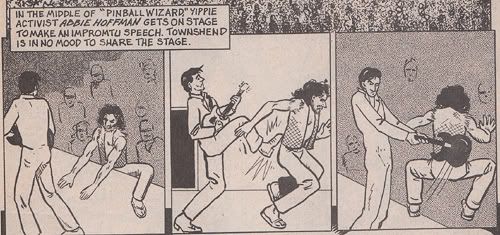 --There's
Road Crew Comics
, which I hated, but maybe you will love it?
--There's The Archies, which is Archie's band in his comic, apparently.
What else is there?